It is time for another round of the foodblogswap :) It is a Dutch event where bloggers cook from each others blog. This month I had to cook something from the blog
Thuiskok
. First I wanted to make a quiche from the site, but I also came across a recipe for egg salad. And while quiche is usually good and fun to make, I did choose for the egg salad in the end, because I like fresh egg salad and I really dislike the mushy stuff from the store. Of course I have made egg salads before. But I usually use different spices myself. The possibilities to make egg salad are endless :) I loved this basic recipe, it tasted good! I did make some small adjustments, mainly in the amount of mayonnaise. So here is my version below.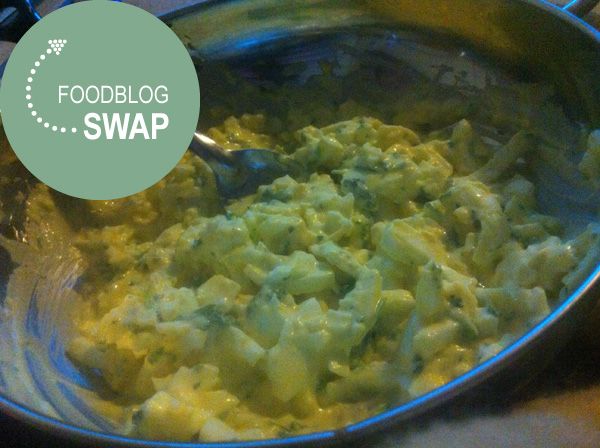 Egg Salad:
- 4 eggs
- 3 tbsp mayonnaise
- 1 tbsp fresh parsley, chopped
- 1 tsp kukurma
- salt and pepper (optional) I tasted it after combining these 4, and didn't think it needed more. But taste and add as you see fit :)
Cook the eggs, run them under the cold water, peel and cut them. Let the eggs cool a bit, if they are still too warm. Then put them in a bowl and mix it up with the mayonnaise and spices.
We ate it in front of the telly on toast, watching the Doctor Who special with friends. Therefore I only took a quick snapshot because the show was about to start! :) It was a great snack. So much better fresh then store bought.